5 April 2023
par L Leblanc
Polyurethane: Everything you need to know about this material
Your Complete Guide to Polyurethane: Definitions, Benefits, Use, Manufacturing
What are polyurethanes?
Polyurethanes have the most efficient properties of the range of elastomers available on the market. Developed since its discovery by Otto Bayer and his colleagues around 75 years ago, polyurethane, PU, is a polymer composed of organic units, joined together by carbamate functions, also called urethanes.
The how- A chemical overview:
Commercially, polyurethanes are produced by reacting a liquid polyisocyanate with a liquid mixture of the polyol, catalyst and other additives. In the 1950s, the industrial production of PU increased with the development of processes for obtaining polyisocyanates. In current polyurethanes, the urethane group is in fact only the joining element between the macromolecular chains. This group has exceptional stability and rigidity, its cohesive energy even slightly exceeds that of the amide function. This explains their excellent mechanical properties.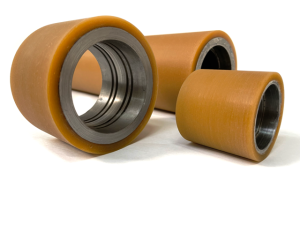 Properties and advantages of polyurethanes
Polyurethane is characterized by its remarkable properties: good mechanical resistance, non-stick, durability, elasticity and constant roughness. It is the ease of molding and polymerization of this material, its resistance to abrasion, tearing, load and ozone and its high wear resistance that have made its high performance and its exceptional reputation in the plastics industry. This material is antistatic, semi-conductive, with a low coefficient of friction. It can be carried out in a wide range of hardness from 50 shores A to 99 shores A.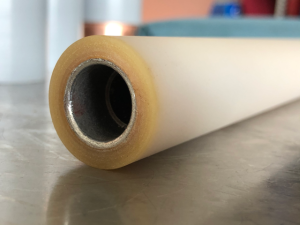 Uses of polyurethanes
A highly technical, versatile and resistant material, polyurethane offers a large number of possibilities of use in different areas of the industrial sectors.
PUs are essential components in the furniture industry. Polyurethane foams are particularly used; rigid foams are integrated into curtain walls and insulation panels are used in construction or in household appliances. Expanded foams are widely used for their quality of sound and thermal insulation, their adhesion to any support, their buoyancy force and their ability to fill any voids and to allow tailor-made, light and solid packaging.
The automotive industry: The use of PUs is effective in particular for filling a void in the underbody of a car and preventing rust from spreading by acting as a barrier to rainwater. PUs incorporating anti-abrasion components are used in the manufacture of extremely strong wheels and castors. Other grades have been developed for tyres, and micro-cellular variants of foam are widely used for wheelchair and bicycle wheels, but also for shock absorbers, silent blocks and bumpers.
The wood industry: PUs are the basis for the manufacture of glues, more particularly for assembling wood or bonding shoe soles. The main advantage of this type of glue is its resistance to water. They are used in coatings, lacquers, paints and varnishes, whether in construction, furniture or wood protection.
Polyhydroxylated combinations lead to highly cross-linked materials used for high performance paints (paint for aeronautics for example).
The textile industry: Lycra (Elastane), thermoplastic polyurethane elastomer. Many garments are made from Lycra for its stretch properties, making it particularly suitable for sportswear.
Polyurethanes are also used as implants and biodegradable membranes in the medical field.
PU and its role in sustainable environment and green energy
Due to its remarkable adaptability to meet the most diverse requirements, PU technology has established itself worldwide in many coating and adhesive applications. PUs have strong durability aspects, due to their excellent properties. For example, in the thermal insulation of buildings and refrigerators; lightweighting applications of PU-based foams and adhesives, in transportation and construction, as well as their product life-enhancing coatings applications, ranging from metal to concrete and wood substrates. While the majority of PUs feedstock is still crude oil-based, in recent years alternatives based on renewable resources have been developed, such as oil-based polyols.
Sources :