23 March 2023
par L Leblanc
The reliability of our steel pulleys is based on the manufacturing quality
In addition to its expertise in elastomer rollers covering, ENRI offers its know-how in the realization and manufacturing of a wide range of custom-made rollers, cylinders or pulleys in steel or other materials (stainless steel, brass, aluminum, composite, plastics, cast iron, thermo-plastic, HDPE, PEEK, PVA, etc...). Its machining workshop (turning, milling, sandblasting, drilling, welding, grinding, etc...) enables ENRI to manufacture mechanically-welded multi-form parts, of robust construction and precision, simple or complex, for all industrial sectors, including for quarries, agri-food, energy, chemicals, paper mills, glass factories, etc... Intended for end users and integrators, our rollers are used in mines, steel industry, cement works, ports, aeronautics and more.
Here are two examples of our range of custom steel products:
Steel rollers manufactured for a high-end steel company: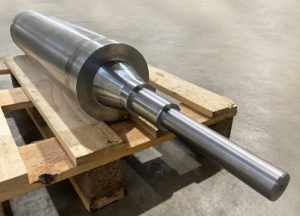 Steel rollers manufactured for a group in the energy sector: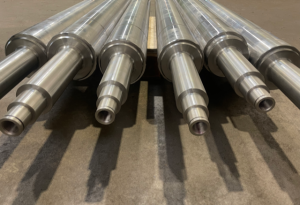 For more information on our steel rollers, visit the industrial mechanics page on our site.